Google Maps

To plot a place on Google Maps, we must first Geocode the place.
Geocoding, is the process of adding Latitude and Longitude to each place.
Augean uses information returned from FamilySearch for geocoding.
Everytime FamilySearch provided the latitude or longitude for a place, Augean will
store the information in a cache.


The Column GeoCodes shows if a person has geocode information



The GeoCode information for each person
(Click on the image to enlarge)

In this example, Lizzie White has a geocoded place.
However, Thomas White has no geocode places.
To add a geocoded place to Thomas White, first edit Thomas White



Adding GeoCode information for Birth
and select the check place button,

FamilySearch returns with a list of suggested geocoded places



FamilySearch returns a list of geocoded placed
(Click on the image to enlarge)
Select the best match using

Hooray, Thomas White now has a geocoded place.
Thomas can be plotted on GoogleMaps


The GeoCode information added for Thomas White(1898)
(Click on the image to enlarge)


Create the interactive Google Maps using
Select the persons to include on the map

Enter a search filter, For example "Sitch" to include all the people with a surname of "Sitch"

Include all places for each person, or just the first place (which is usually the BirthPlace)

Build the map using


Selecting the folks for building the Google Map


The map is interactive, Double Click on a marker to view/edit the person for the place.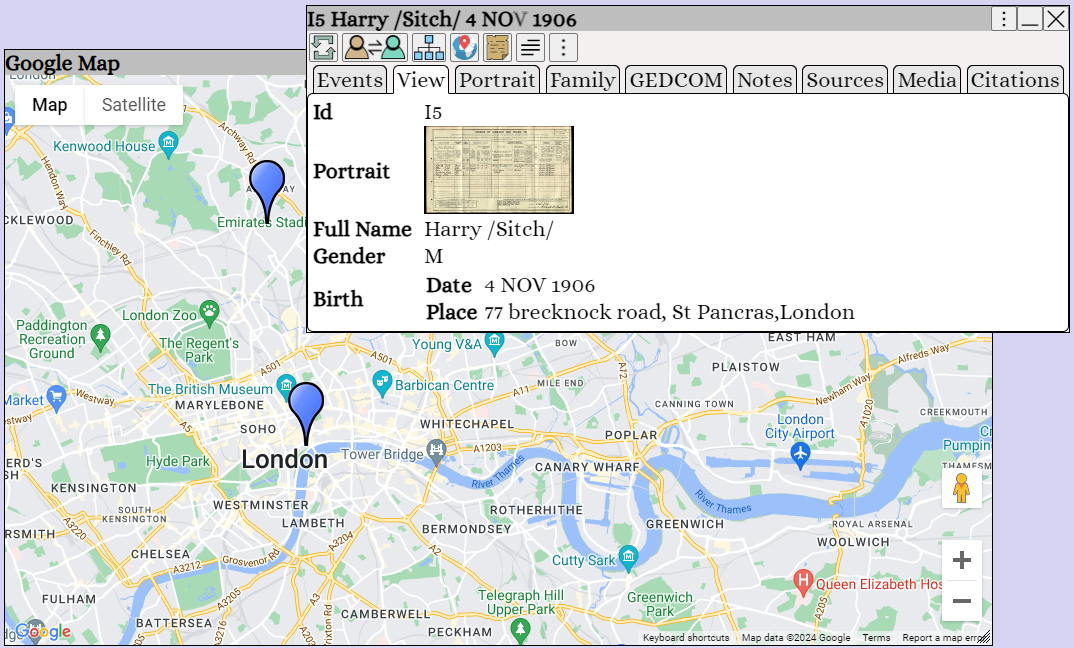 Interactive GoogleMap